The Dragon and the Crown:
Hong Kong Memoirs
Stanley S. K. Kwan with Nicole Kwan

published by Hong Kong University Press
Royal Asiatic Society Hong Kong Studies Series

The memoirs of Stanley Kwan - the creator of the Hang Seng Index

Stanley Kwan, who headed the Research Department at Hang Seng Bank from 1962 until his retirement in 1984, recounts his life experiences which culminated in the launch of the Hang Seng Index in 1969 and his being awarded the Member of the British Empire (MBE) in 1985 for services to Hong Kong.

Wedged between the East and the West - the Dragon and the Crown - Stanley Kwan's life experiences reflect the forces pulling at Hong Kong. He was born into a traditional Chinese banking family but attended King's College under the British colonial system. Fired up by patriotism during the war, he joined the Nationalist Chinese army and served as an interpreter for American forces in southwest China. In 1949, two of his brothers went to the Mainland to join the socialist revolution. Although tempted to join, he stayed in Hong Kong, worked for a British firm and became a "China watcher" at the American Consulate General.

He finally joined a local Chinese bank - Hang Seng Bank where, as head of the Research Department, he launched the Hand Seng Index and witnessed the dramatic cycles of the Hong Kong economy. With the prospect of 1997, Stanley Kwan deliberated on his future and decided to retire to Canada in 1984, joining the tide of immigrants from Hong Kong.

The memoirs give a voice to the ordinary people whose lives have been profoundly affected by the dramatic changes in Hong Kong: from an entrepot to an international financial centre and from a colony to become a part of China. The book contributes to the ongoing search for Hong Kong identity and will resonate among those who live in or are interested in Hong Kong.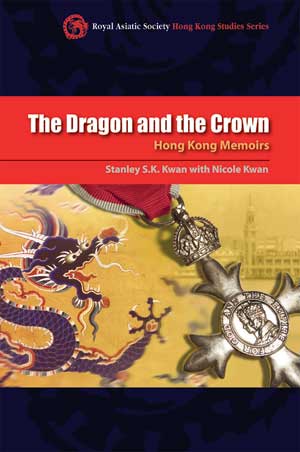 Hardback 236 Pages
Published Dec 2008
ISBN 9789622099555
238x156 mm 0.532 kg
9.5x6.2 in 1.17 lb
For inquiries, please email sales@TheDragonAndTheCrown.com